Single Handed Seminar!
Ever considered entering the VRC Single-Handed Anything Goes race?  How about the RNSA Single-Handed race to Nanaimo?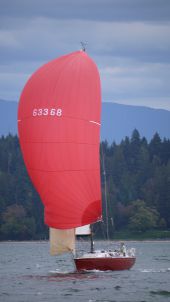 Or maybe you just want to feel comfortable single-handing while you're cruising our local waters?

Ever seen the little man on the big red boat, aka Trevor Salmon and Manana, racing single-handed and wonder how he does it?

Now is your chance to learn!

Join us Tuesday April 28tht at the VRC visitor docks at 7:00pm when Trevor will be offering advice and answering questions about single-handed racing, cruising and boat preparation.

After we'll convene to the Carver Room for Nacho Average Tuesday and continue the conversation and questions.