FINALLY – WIND!
I had been out to dinner with friends the night before and we had curry, so I was expecting a certain amount of wind on Sunday. But to actually get it for the race was unexpected, having had virtually no wind at all since the Polar Bear Series began this winter.
After a week of storms and gales, up to 12 knots was blowing from the SE as we motored under the bridge and set the pin for a short windward leg to the QC buoy. The recent wind should have churned up the bay pretty good, but the only thing that was churning was my stomach. From QC the boats would go to the Bell Buoy, back to the QC and then to the finish. A good course we felt as the weather was pretty horrible for those asked to sit on a rail for a couple of hours. It was raining constantly and we would not be able to see the boats at Point Grey. The tops of the mountains around us were invisible in the mist. Maybe it was snowing up there, but I somehow doubt it as the temperature was a balmy 10 degrees down on the water. In fact, once we started to get breakfast together on the "Comedy" boat, the cockpit was so full of condensation it was almost raining there too, and we could hardly see out of the wheel house windows. How we suffer!
The start was on time at 11 am, and it was just brilliant to see all 31 boats actually heeling to a press of sail as they headed for the line. Mind you, I think the whole lot of them had set their watches in Alberta or something, because not one boat was near the start when the 'gun' went off. The last boats over the line were 4 minutes late! Wow!
We had a several Journalism students from UBC with cameras aboard the committee boat, who wanted to get the feel of winter racing. Consequently, we were all on our best behaviour, smiling sweetly and cracking bawdy jokes. "What did the banana say to the vibrator? A: The banana says: I don't know why you are shaking, she's going to eat me!" The students also had a camera guy on Rhumb Line and another out at Point Grey, although I doubt the latter would have seen anything for the rain. But they got a good view of the start and of the boats setting spinnakers for the downwind leg of the race.
The boats had a great run. We watched them disappear into the gloom and went to have a light lunch. We dined on Potato and Leek soup, followed by shepherd's pie, and cookies of all sorts. What a feast to warm us up while we waited for the boats to return. The wheel house steamed up some more, but we had a while.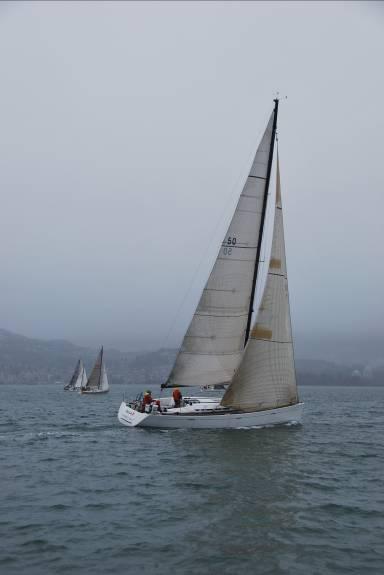 Later in the bar, the stories of boats having great fun under spinnaker were numerous and no doubt embellished beyond belief. During the turn around the Bell Buoy and the beat back to weather, not one boat had a bad time. Even poor Horatio had a great time until that point when he rounded and found the current taking him to Point Atkinson, so he motored home. I did feel for Myles as he has just started this and is experiencing just the same frustrations as I did when I raced Perihelion and would find myself going past the same crab trap 4 times when beating into wind and current. But that's all part of the learning process. You don't really learn how to sail until you race; that's when you find out things about yourself and your boat that you never knew existed.
Occam's Razor had another blinding race with line honours once again, which is to be expected of course, but well done all the same. Then came Tiger Lily (see picture left) close behind in second. However, once the ratings had been applied, Occam's Razor had been relegated to 10th place and Tiger Lily to 6th. In first place was Achilles Dolhaine on Woodstock. Great job. Brigadoon came in 2nd with Andy Allen, and then Jason Vandergaag on Nimue in 3rd place.
One interesting note is XS, newly owned by Benoit Sonnel. XS is a Hotfoot 30 and Ben Rummen had recently helped Benoit make the epic journey to deliver the newly purchased vessel from Esquimalt to its new slip at VRC (mid-winter and no heat; madness!). Benoit apparently thought to repay this kindness by beating Ben to the finish, which he did. However, because he waited at the finish to jeer before crossing, XS lost to Thursday's Child on handicap, coming 12th to Ben's creditable 8th.
A great day of racing, but not one boat wanted another race in the very wet conditions. So we all went back to the bar at VRC. If you haven't done that – do so, if only to get one of the great door prizes which are provided by sponsors such as Navis Insurance, Evolution Sails and Granville Island Boat Yard. Their generosity makes all this fun possible. We all had drinks and hot soup. But once all that was over, there was a memorial for our old friend Jack Peters, where more drinks were served and many stories told. I don't feel well again today!
Grateful thanks to Andreas Truckenbrodt (PRO) for another great start sequence and race management, and to the crew of the Perihelion for help with everything. But special thanks to the racers. THIRTY ONE BOATS! WOW! In mid-winter, that's amazing. Well done.
Evan Seys
S.V. Perihelion
Committee Boat, VRC Racing.