AWARDS NIGHT – 2014
Plus another non-race day!
It was freezing! Then it wasn't. It was sunny, then it wasn't. But the only constant – NO WIND. AGAIN! I cannot believe this and to be honest, I am in awe of the racers who come out time after time to do battle and the only fight they get is who gets to sit on top of the warm engine or who gets to sip the first hot toddy!
On the Comedy boat we listened while Occam's Razor came slowly by playing great tunes on their cockpit speakers. We watched Aquavit hoist their spinnaker and drive all over the bay in reverse to fill the sail. A masterly bit of sail handling! I noticed that the owners of Sorcerer and Bedlam II had swapped boats, although I am not sure if that was intentional or the result of a heavy night at the Awards Night the night before. They are easily confused.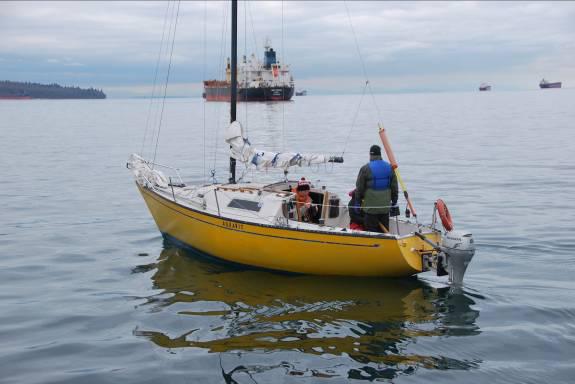 And now that I have mentioned the Awards Night, I may as well carry on as there is not much else to tell about the "race" as there wasn't one, again, and we abandoned the course at 12.30 having had a lovely lunch in the 18 degree heat of the Perihelion's dog house. We are not mugs you know! But as for the wind, be careful what you wish for, as next time we might get a gale! Whooohoo!
AWARDS NIGHT
Every year we have an awards night to celebrate the sailors, their boats, their successes and their failures, and we celebrate ALL of them, no matter which club they belong to. If they came out to join us on the race course, we recognize your heroism. Its always fun and this year we had a great meal, paper table cloths with crayons so that we could do some drawing if we got bored, and as usual we had some great company. We also recognize the volunteers who, behind the scenes, make all this happen. Personally, I would like to thank VRC Fleet Captain Benjamin Rummen and Racing Officer Shane Alfreds for their tireless efforts to make all of us happy, on or off the course.
Benjamin had been suffering from the 'flu all week, but looked well enough when I spotted him. Yes, he had a glass of wine in his hand, which might explain that, but what a great job he and Shane (Racing Officer) did putting this evening together in spite of the sickness.
Prizes were given out for all the divisions, but the "Boat of the Year" went to Pieter Smits of Avalon for his epic trip south and for all his efforts to get his big boat around the race course, and we are talking of speeds in tectonic terms (I for one know exactly how he feels!). But he also won the "Bent Prop Award" for running out of fuel on the way down south to the Americas Cup, and no, he was NOT competing! At least he didn't hit the continent as that would probably have come off worse and part of California would no longer be there.
Bob Poulton won the "Safety Award" for all his efforts to keep our boats safe and their owners from becoming idiots. And the Fleet Captains Award went to Andreas Truckenbrodt for all his work on your committee boat, starting those races and generally keeping us all happy.
The race winners and runners up can be found here on the website, but from us all – well done. Well done for getting out there in those varied conditions that make us proper sailors and not just fair weather ones. Now I am off to my bath and a brandy!
Evan Seys
S.V. Perihelion
Committee Boat, VRC Racing.